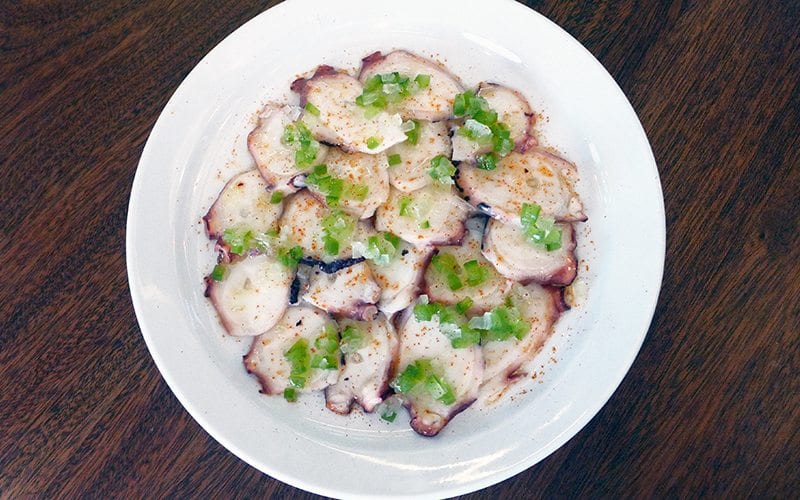 By Bar Isabel Chef-Owner, Grant van Gameren as told by Chefs de Cuisine - Keenan McVey & Ryan Baddeley
The summer before we opened Bar Raval, Grant, Ryan and I took a trip together to Spain.
Grant had us excited about the idea of doing Spanish-style seafood breakfasts at Bar Raval—but, of course, Ryan and I wanted to see the real thing for ourselves first. So we started at La Boqueria in Barcelona, indulging in massive plates of fresh shellfish, seared à la plancha and drenched in either olive oil or butter. The ingredients were phenomenal, and the cooking techniques were simple but precise. You feel incredible after eating lots of fresh shellfish before 10 am—and we needed more. We graduated to breakfasts of canned Spanish seafood, consumed while standing around barrels with beers, hot sauce, chips and toothpicks. Then we moved on to San Sebastián. On our first morning there, Grant took us to our first pintxos bar, called Bar Gorriti. We drank Txakoli, ate headcheese and preserved seafood in a loud, cramped and hot bar—all before 10 am. It was our first glimpse of the San Sabastián lifestyle, and the first place where we sampled this octopus.
– Keenan McVey
Poached octopus:
1 whole Moroccan or Mexican octopus, about 1.5 kg (3 lb)
3 bay leaves
1 yellow onion
500 mL (about 2 cups) white vinegar
Salt
Marinade:
1 L  (about 4 cups) vegetable oil
1 grapefruit, sliced
1 orange, sliced
1 lemon, sliced
1 bulb garlic, halved cross-wise
½ bunch thyme
½ bunch rosemary
3 bay leaves
2 tsp black peppercorns
2 tsp chili flakes
250 mL (about 1 cup) white wine vinegar
2 tbsp salt
Marinated onions and peppers:
250 mL (about 1 cup) white wine vinegar
2 tbsp salt
2 tbsp granulated sugar
250 mL (about 1 cup) green olive brine (optional)
1 large green bell pepper, seeded and finely diced
1 sweet Spanish onion, finely diced
To finish:
Good-quality extra virgin Spanish olive oil, preferably Arbequina
Sweet paprika
Maldon or some other flaky sea salt
Makes:
Many Servings
To cook the octopus, combine onion, bay leaves and about eight litres of water in a large stockpot on high heat. Add the vinegar and salt generously. (The water should taste salty and acidic. If not, add more salt and vinegar.) When the liquid boils, lower heat to medium. With a pair of tongs, grasp the octopus by the head and slowly lower its tentacles into the bubbling brine, then lift it out again. Repeat twice more—or until the tentacles have curled up. Then submerge the octopus in the pot and simmer for about an hour, until tender (a knife inserted where the tentacle meets the head should encounter little resistance). Remove octopus from the pot, cover and let cool. Then remove its tentacles and slice them into thin rounds.
For the marinade, combine the oil, grapefruit, orange, lemon, garlic, thyme, rosemary, bay leaves, peppercorns and chilli flakes in a large saucepan. Heat on medium until oil begins to bubble, then stir and simmer for 10 minutes. Cool. In a large mixing bowl, whisk together vinegar and salt until the salt dissolves completely. Then whisk in three cups of the strained aromatic oil. Add the sliced octopus and marinate for a minimum of 12 hours.
Meanwhile, in a mixing bowl, whisk together the vinegar, salt, sugar, ¼ cup of cold water and olive brine (optional). Add the diced pepper and onion pepper, stir, and let marinate for one hour. Strain and reserve (discard marinade).
To finish, arrange thin slices of marinated octopus on a plate or platter. Sprinkle the marinated peppers and onions on top, drizzle with olive oil, dust with paprika, and season with sea salt.
Bar