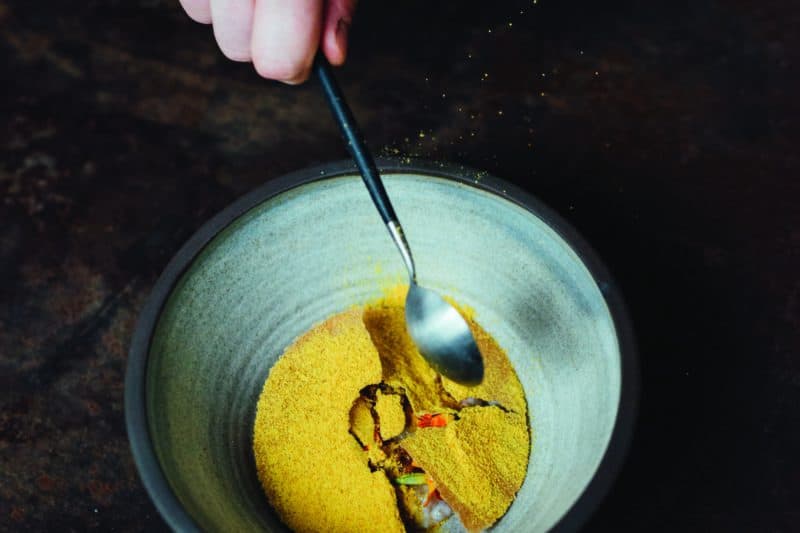 1023 ONTARIO ST E, MONTREAL, QC
Le Mousso

underwent big changes in 2018. It spawned a new restaurant for the tasting menu averse (Le Petit Mousso), and with that younger sibling installed in its original split-level home, it decamped to more spacious digs next door.
The improved circumstances allowed for its kitchen to quit the basement for the main floor, where it operates semi-open, alongside the bar. But otherwise the room feels much like the original, which opened in 2015. The decor is spare, verging on austere. The floor is cold stone, and the walls are white. The tables—some high-tops among them—are handsome dark wood, but bare, set with grey porcelain water cups and grey-felt upholstered chairs. For colour, there's something special, though: a pair of spectacular backlit murals by Jean-Paul Mousseau, a prominent Quebec artist in the '60s and '70s, artistic director of the Montreal subway, and, most important, grandfather of Le Mousso founder and chef Antonin Mousseau-Rivard.
The founding idea of his small restaurant on the edge of the east-end neighbourhood The Village was to present a Québécois take on neo-Nordic cooking. And under Mousso-Rivard's guidance, his young executive chef Massimo Piedimonte prepares original and assertively flavourful dishes that honour Canadian products. A tasting menu here might begin with a wildly fluffy bundle of beet-
flavoured candy floss concealing a chilled cube of foie gras mousse. More often the presentation is austere, in the manner of the New Nordic cuisine that inspired it. Still, the results are flavourful and beautifully crafted. There's B.C. sturgeon caviar, sweet onion, fermented cream and roasted bone marrow consommé, and fir-smoked scallops with wild plum butter, and a dessert made with Greek-style yogurt from Quebec with cherries and marinated flowers, accompanied by mini kefir pancakes with rose-flavoured crème fraîche. Fermented vegetables are de rigueur here (say, flaked slow-cooked Quebec halibut, folded with fermented cabbage). Le Mousso is a new Montreal classic.
Hours
| | |
| --- | --- |
| Monday | Closed |
| Tuesday | Closed |
| Wednesday | 6–10p.m. |
| Thursday | 6–10p.m. |
| Friday | 6–10p.m. |
| Saturday | 6–10p.m. |
| Sunday | Closed |
Photos By : Alison Slattery