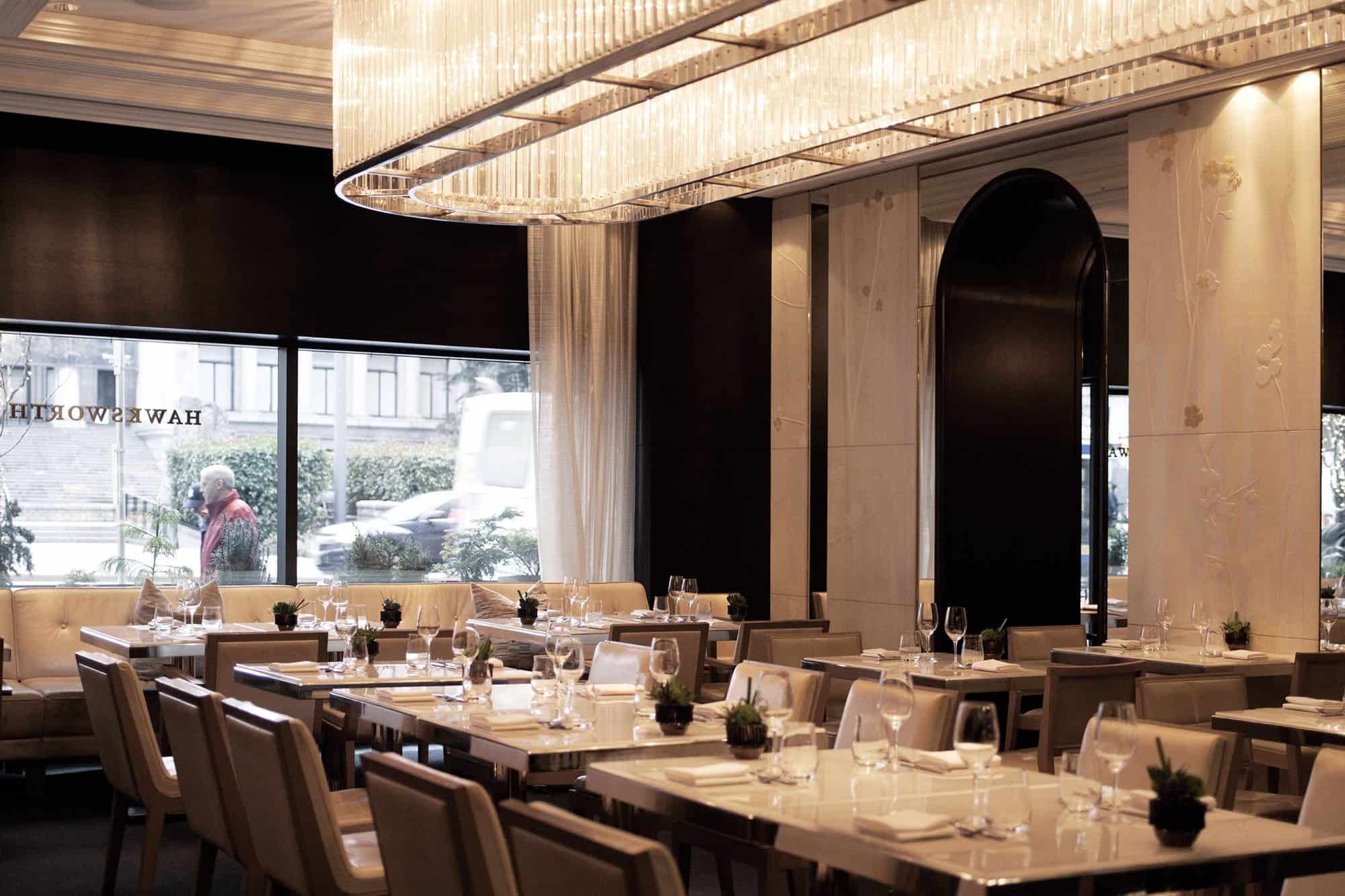 801 WEST GEORGIA STREET, VANCOUVER, BRITISH COLUMBIA
(LOCATED AT THE ROSEWOOD HOTEL GEORGIA)
HAWKSWORTHRESTAURANT.COM
604-673-7000
By definition and mandate, a restaurant in a hotel—however posh—must accommodate an intimidating range of needs and tastes, and Hawksworth at the Rosewood Hotel Georgia goes about this job with unusual panache and sophistication.
This begins with its design and layout, which, like many a fine hotel restaurant before it, is made up of a series of connected but distinct rooms of differing style, mood and purpose. There's the bar and leather-panelled lounge, adorned with the Damien Hirst "heart and butterflies," the chandeliered Pearl Room, the Art Room and the Heritage Salon.
Other than great style what unites it all is David Hawksworth's exquisite cooking, which has evolved substantially since he first came to national attention well over a decade ago at West. His style then still echoed that of the great London kitchens in which he had honed his craft. Now his style is far more Canadian—which is to say more multi-ethnic, and more approachable. It has also grown lighter, more healthful, and—often—more assertively spiced. Think hamachi ceviche with sea buckthorn, jalapeño and pumpkin seed. Or seared albacore tuna and squid with flageolets, chorizo and smoked carrot. Or duck breast with a crisp duck croquette, pumpkin, gai lan and lingonberry jus. Deserts are exceptional.
The wine list is long, varied and wellcurated, and many excellent wines are available by the glass.
HOURS
Breakfast
Monday to Friday
6:30 AM until 10:30 AM
Saturday, Sunday
7:00 AM until 10:30 AM
Lunch
Monday to Friday
11:30 AM until 2:00 PM
Brunch
Saturday, Sunday
10:30 AM until 2:00 PM
Dinner
Monday to Sunday
5:00 PM until LATE
Vancouver's best restaurant to experience sophisticated contemporary cuisine. – JOSH JOSEPHSON
Consistently spectacular food, wine and service. – JOHN VOGEL